McLoone Metal Graphics Story: Stamping Solutions at any Production Volume
If you're anything like McLoone Metal Graphics, you've probably experienced the same problem when shopping for a smaller press: finding a stamping press supplier who will work with what you have and customize a press to your specific needs.
Matt Dearman–Tooling, Maintenance, and Engineering Manager of McLoone– shares his insight on how Sangiacomo Presses Americas catered to their small press needs and capabilities as a facility doing a lot of small volume jobs to produce product IDs.
McLoone purchased three 30-ton C-frame Sangiacomo punch presses in late 2018 to use in their process of manufacturing metal nameplates. This adjustable stroke press is well suited for applications with higher production speeds for increased productivity, like blanking and stamping. The T-30CE press features the following, plus standard features not listed here:
13.78-inch max die height (table to ram distance)

80-200 strokes per minute

0.31-2.99 inches adjustable stroke length

2.36-inch ram adjustment (slide adjustment)

300 kN max capacity



Additionally, McLoone recently installed their fourth Sangiacomo press—a 50-ton adjustable stroke press. For technical details on this press and the 30-ton press, download our C-frame product brochure here.
The Dilemma
It was time for McLoone to replace their old 22-ton gap frame presses, but other press suppliers weren't offering the needed solutions. Specifically, they needed new presses compatible with the library of 10,000 dies they've used since the '60s. This meant that they needed smaller presses with clearances compatible with the dies. If you've ever been in McLoone's shoes, you know what this implies. They had to seek out smaller, niche suppliers of smaller ton presses willing to sell you only what you need and nothing you don't.
Matt explains, "A lot of press manufacturers want to sell you a 200-ton straight-side press. So, the market for a smaller gap frame press is a bit more laser focused. I guess there are just not as many companies that even want to get into that business. That said, there are still some niche manufacturers out there. We considered a few of them, but again– we're looking at the size of the actual press itself, the compatibility to what we had, the speed of the press, the ease of setup, and the changeover time."
The Solution
Matt continues, "As I said, there's not a ton of manufacturers out there that are selling new, smaller presses, so we chose Sangiacomo because of their willingness to build a machine that was close to what we wanted. It was also nice working directly with the manufacturer in Italy. We made some modifications to the presses, so it wasn't just off of the assembly line. The shank-sized pole was different from what you typically have, and we had custom poles in the bolster plates and bolster plate thicknesses. So, by being willing to work with us instead of selling what they make, they provided us a machine that we could use."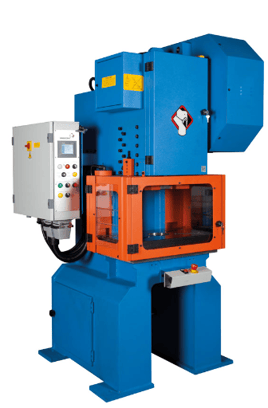 Better Changeovers and Feed System Integration
Aside from the initial impression of working with Sangiacomo, Matt highlights the ease of changeovers and feed system integration with a Sangiacomo adjustable stroke press:
"We do a lot of smaller volume runs, meaning we have orders for 500 pieces. We might change a die in and out of a punch press three times in an 8 to 10-hour shift, so that changeover time is important to us. We don't want to spend two hours changing a die over. With Sangiacomo, our changeovers usually only take 15 to 20 minutes. We have a good system down for SMED, and we try to keep our changeover times down with the flexibility of the guarding and everything else", Matt says.
Regarding the feed system integration, Matt adds, "We use a specific feed system that allows a tight register between the printing and the cutting for our nameplates. Since the feed manufacturer also uses Sangiacomo presses in building integrated systems that they sell, we knew that it would adapt very well and enable us to wire the feed into the control of the press and have the needed handshake of the feed and the press. In our industry, we don't just stamp raw aluminum–it's mostly all screen printed to suit our customers' designs, logos, and artwork. Because of this, we have to maintain a tolerance of 10 thousandths of an inch between the printing and the cutting. So, it has to be right there– regular pneumatic feeds just don't work for our industry."
To summarize McLoone's experience with the initial design and use of their adjustable stroke presses from Sangiacomo, Matt concludes, "We had to have something that was going to work with our feeds at the right speed with safety. Those are our biggest three criteria, but with the price and, again–the adaptability and willingness to work with us to build the size of presses that we needed rather than what you sold– was a big decision maker."
To learn why Sangiacomo Presses Americas offers some of the best stamping presses, check out other timesaving and productivity-increasing advantages of an adjustable stroke press here.
Related Pages: C-Frame Presses
About McLoone Metal Graphics
McLoone is a product identification manufacturer in La Crosse, WI. They specialize in ID plates, custom nameplates, labels, and graphic overlays for commercial and industrial applications in nearly every industry. To learn more, visit their website here.
McLoone Metal Graphics
75 Sumner St
La Crosse, WI 54603
Phone: 800-624-6641
Email: info@mcloone.com