2022 marks the 66 years anniversary for the parent company of Sangiacomo. CMBB started producing presses in 1956. It became later part of the SECCO group until it was split off in 1972, where it continued to operate under the Sangiacomo name. Over the decades, tens of thousands of machines have been sold, predominantly in the European market, showcasing the robust reputation our presses have garnered.
About Us
Since the inception of Sangiacomo, the primary goal has been to produce high-quality presses at a reasonable price.
All of our mechanical press parts are designed and machined at the Sangiacomo facility in Vittorio Veneto, near Venice, Italy. This ensures each press provides the user with unmatched flexibility, quality, and reliability.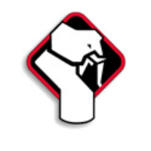 The elephant in our logo, serves as a universal symbol of strength, and encapsulates our unwavering commitment over decades to superior machine design and excellent quality. This emblem underscores our serious dedication to uphold and deliver robust, reliable machinery.
Since 2014, Sangiacomo Presses Americas has been the Official Distributor for the North and South American continents. Our in-stock presses are available for viewing at our showroom in Huntsville, Alabama.
Spare parts and service technicians are dispatched from the Huntsville facility, while our sales and support offices in New Jersey, California, Indiana, and Sao Paulo (Brazil) ensure prompt service.
Our Presses
We specialize in mechanical presses with adjustable stroke lengths and custom add-ons for all your press needs. We offer c-frame/OBI and straight side presses as well as complete production solutions by providing presses, feeding systems, molds, and conveyors. Our dedication to quality extends to the selection of purchased components. Our electrical controls feature products from leading brands such as Schneider, SIEMENS, PILZ, and Allen-Bradley.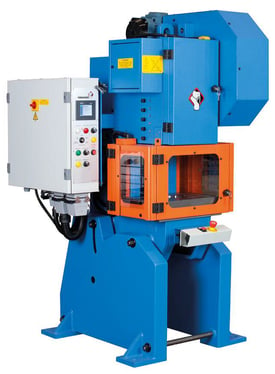 Adjustable Stroke Length
A distinctive feature of Sangiacomo presses is the adjustable stroke length, ranging from very small, well-suited for blanking, to impressively long for draw forming applications. The benefits of our adjustable stroke feature include faster die changes, increased productivity and flexibility, reduced downtime and repair costs, and a 50% longer tool life.
Changing the stroke is straightforward and takes only minutes. The NC control option on larger press models (T80 and up) provides a fully automated stroke length change based on the setting stored in the tool programs.
Integrated Safety Mechanisms
All presses manufactured by Sangiacomo include standard safeguarding mechanisms. The front doors open for point-of-operation access and are redundantly interlocked. The side guards can be swung open to allow full access to the die area. They are also interlocked with electromagnetic sensors. Many safeguarding options, such as light curtains, are available. Guards can also be custom configured to enclose a feeder or extra-large dies if needed.
All presses are CE Certified and comply with the most stringent European norms as well as ANSI, OSHA, and Canadian standards.
Custom Add-ons
Looking to tailor your Sangiacomo press to align perfectly with your stamping requirements? We offer a variety of add-ons, such as tie rods for increased frame strength, rapid die tooling for expedited tooling changeovers, among others. Given that the frame is crafted in Vittorio Veneto, customizations are seamlessly executed, expanding the horizon of possibilities.
Sales and Service
At Sangiacomo our sales and technical service team work closely with you before, during, and after the sale to ensure your needs are addressed and exceedingly met. Replacement parts are commercially available worldwide, ensuring minimum replacement cost and high serviceability for your presses. PLC programs are stored on SD cards. Thus, replacements are as easy as transferring a memory card.
We are here to help you with all of your stamping needs!
Please contact us at any time to talk to one of our experts, and take the first step towards experiencing the Sangaicomo advantage.