Here's the thing about fixed-stroke mechanical presses...
Inefficient and outdated stamping operations can cause production bottlenecks in your stamping operations. This can result in downtimes and backlogs. One of the possible culprits is the use of fixed stroke presses that are only compatible with the type of forming for which it is designed.
The problem?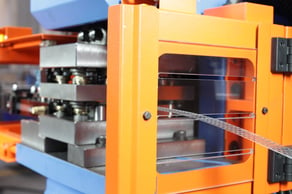 Instead of using one machine for multiple types of forming, some fabrication shops are using a separate fixed stroke press for each type of forming. The disadvantage? Downtimes from scheduled maintenance and unexpected repairs or press replacements.
To illustrate the effects of downtime, let's say you have 1 stamping press and 1 blanking presses in your multi-application metal forming shop. One day, the stamping press stops working, leaving you without a backup press.
Unfortunately, a fixed stroke press does not offer the versatility of an adjustable stroke press. So, when one press is down, you have no backup. This causes backlogs and forced downtime while you wait for repairs or a replacement.
The solution?
One adjustable stroke press can serve as a back up to several fixed stroke presses, eliminating backlogs and downtime mentioned in the previous example. Since certain jobs require a specific stroke length and die height, adjusting the stroke length for the desired job allows for a variety of jobs to be performed on a single press.
An adjustable stroke press is multiple machines in one-- stamping, blanking, coining, drawing, and bending. While your operations were once limited to the type of fixed stroke press you owned, an adjustable stroke press offers this kind of versatility.
Implications of adjustable stroke press on reducing production bottlenecks in your stamping operations
Increased floor space




When you replace a fixed stroke press with an adjustable stroke press, you free up floor space previously occupied by single-job presses.






Return on investment




With an adjustable stroke press, you can produce more parts per minute without damaging the press frame and tools. This results in the benefit of less downtime and repair costs.




Learn more
Have questions? Contact us to speak with an expert about eliminating production bottlenecks with an adjustable stroke press.